Beginning with the simple essential movements you can learn very comfortably and experience definite progress. With your consistent participation the instructor can assist you in building a solid foundation for your dancing with fun and interesting variety.
Continue learning and reinforcing fundamentals while expanding your diversity.
Focus more on musicality and lead and follow. Enjoy learning more sophisticated sequences.
Continue to hone your skills as you become polished with style and technique.
Specializing in 2 left feet
Dance Courses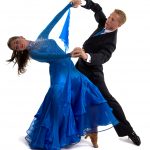 Group courses begin with Level I for beginners and advance in difficulty with each level. Classes are designed to progress each week building on the previous week's material. Each class will begin with a review of the previous week's material before progressing. With this method, a participant may miss 1 class and still be able to participate comfortably. It is not necessary to bring your own partner, as participants rotate partners regularly to focus on "lead & follow" while reinforcing foot patterns and creating muscle memory.